Molokai - The Friendly Island
Welcome to Molokai, The Friendly Island, and Molokai Bicycle. Come to our quiet island and enjoy miles of highways with very little traffic, beautiful scenery and fun cycling. Whether you're an avid road or mountain bike rider or just want to get away and enjoy the fresh air, Molokai is the place for you. With only a little over 7,000 inhabitants and very little development, Molokai is the "Old Hawaii" nature lovers seek. We have beautiful beaches, lush forests, waterfalls, the worlds tallest sea cliffs, and lots of historic sights.
Molokai is about 38 miles long and 10 miles wide lying in an east-west direction. Kaunakakai (cow-na-ka-kai), our main town and port, is in the middle of the south coast of the island. Kalaupapa peninsula is centrally located below the breathtaking northern cliffs of the island. Molokai lies about 8 miles west of Maui (you can easily see Kapalua Golf Course and all the Kaanapali Hotels) and about 30 miles east of O'ahu. Although we can clearly see concrete buildings on Maui and O'ahu, Molokai has been saved from such development. Therefore, if you're into peace, love and tranquility come on over. If you like golf courses, Gucci stores and traffic...Aloha o'e.
The prevailing trade winds blow out of the east so a good road ride will take you from Kaunakakai, east against the wind as far as 27 miles, and back home with a tail wind. If you want hills you can climb about 1,700 feet (9 miles) up the Kalae highway to the Kalaupapa overlook, to beautiful Pu'u O Hoku Ranch on the east end, or west up Maunaloa mountain.

About Molokai Bicycle
We are a full service bike shop selling GT, Schwinn and Redline bicycles, parts and accessories. We rent well- maintained bicycles and do quality repairs.
Because Phillip teaches, his hours are limited:
Wednesdays - 3pm to 6pm
Saturdays - 9am to 2pm
Or by appointment (call and we can meet most mornings and afternoons)
Location - 80 Mohala St. Kaunakakai, Molokai. Take the second left after Rawlin's Texaco if you're coming from the West End or the third right after Kaunakakai School if you're coming from the East End. We're between Ross' Used Furniture and Take's Variety Store and across Atlas/ACE Building Material.
We offer free drop offs and pick ups at Hotel Molokai, Molokai Shores and Kaunakakai Harbor. Airport drop offs and pick ups are $25 each run. Kaluakoi and Wavecrest runs are $35 each.

The Kikukawa Family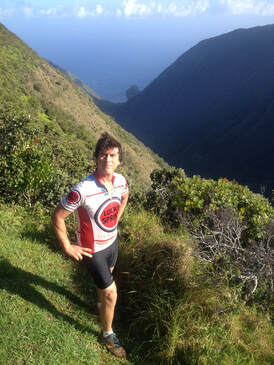 Phillip Kikukawa was born and raised on the Friendly Island. His love for cycling started when he got his first bike under the Christmas tree in 1961 and has never lost thrill of riding. In 1994 he turned his second favorite activity (surfing eventually came first) into Molokai's first and only full scale bicycle shop. He was born on Molokai as were the three children – Michael, Luke and Genevieve. He received his BA in Business Administration from Washington State University and his MEd from the University of Hawaii at Manoa. He is the Student Services Coordinator at Molokai Middle School and runs the bike shop in his spare time. Besides cycling two or three times a week, Phillip swims laps at Cooke Memorial Pool five days a week, surfs when he's not too busy, and uses his Bowflex to stay fit. His eldest, Michael, graduated from Harvard University in 2017 and now works in the West Wing under Jen Psaki, the press secretary. Number two, Luke, graduated from Middlebury College in 2020 and is a research assistant at Columbia University as well as a medical assistant in NYC. He is working toward entering medical school. The youngest, Genevieve, attends Le Moyne College in Syracuse, NY and is majoring in Environmental Science. She is a star swimmer on their team and is working toward entering an Environmental Engineering program at Syracuse University.
Please stop by the bike shop in Kaunakakai and say hi. Aloha

---